GENERAL
The Report Usage section provides you with usage statistics on reports for any particular data range \ within the previous 12 months using either a custom data range select or a monthly option.
TIMEFRAME USAGE
Usage activity is available for the previous 12 months. There are two options to generate usage activity:
Monthly

: User can select any month listed in drop down and generate usage activity on General, 4506-T, SSN, and Onsite reports.

Custom Date Range

: User can set date range specifying dates in MM/DD/YYYY format in From and To section to generate usage on requested reports.
Screenshot:

REPORT USAGE
Users have four options to select to generate usage activity of the reports:
General

4506-T Direct

SSN Confirm

OnSite
The General option listed in the drop-down allows you to select which, and in what order, reports you want to view usage for a particular timeframe. When customizing which reports and in what order you wish to view them, you can choose to save the selected usage format for future use.
Once a selected usage format is saved, you can choose the retrieve option to re-use the format whenever needed.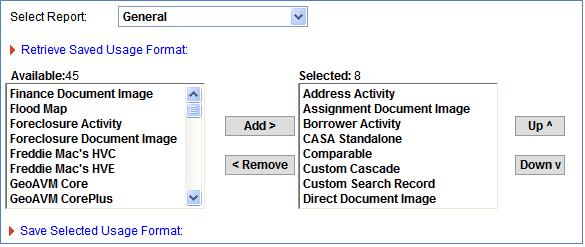 Save and Retrieve Usage Format
To save the customized selected report usage format, select "Save Selected Usage Format" link and provide a format name:

To retrieve a previously saved usage format, click on the name: